This post contains affiliate links. Affiliate disclosure: As an Amazon Associate, we may earn commissions from qualifying purchases from Amazon.com and other Amazon websites.
This article showcases our top picks for the Best
Books To Learn Piano
. We reached out to industry leaders and experts who have contributed the suggestions within this article (they have been credited for their contributions below). We are keen to hear your feedback on all of our content and our comment section is a moderated space to express your thoughts and feelings related (or not) to this article 
This list is in no particular order.
This product was recommended by Helen Russell from Doremi Connect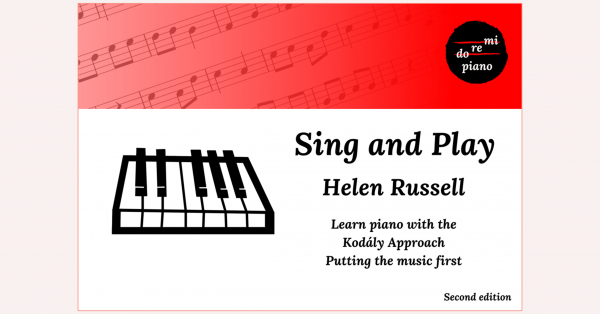 With Sing and Play, Helen Russell has created the perfect introduction to the piano for young children. This Kodály-based method features songs that train the ear and spark the imagination. The music staff is introduced without overwhelming the child, and there are ample opportunities for movement, creativity, and games. Most pieces can be played with one or two fingers in each hand so that a beautiful tone and a good hand position can be developed. The simple, catchy melodies help students to match pitch, develop a sense of tonality, and allow for transposition all over the keyboard. Most importantly, children love singing and playing them, and are excited to share them with family and friends. A review from Benjamin Steinhardt
---
This product was recommended by Javier Martínez from Comprar una Guitarra
This is a book for beginners who want to start learning piano with a good and complete reference and step by step structure. The book is very well explained and mixes theory, technique and practice. The book is very well structured and its content combines good explanations with practice exercises for each lesson, there are even exercises that the reader himself must fill in the same book using the staves provided for it. At the end of the book the user will be able to have a sufficient base to be able to play chord progressions with both hands and will have a good basis to enter into more advanced aspects of piano learning.
---
This product was recommended by Eden Cheng from PeopleFinderFree
While the title may be a bit embarrassing, you'd be surprised at how this book can help complete any beginner's learning experience. In fact, if you are looking to learn how to play the piano but may be lacking some confidence in your skill level or talent, then this book is most definitely for you. Plus, the guide is not just specific to piano, as it can help you to better understand the theory behind all music, be it from piano to vocals. And since it is widely comprehensive and all the theories are explained in the simplest way possible, this ensures that you won't get lost along the way or get discouraged either.
---
This product was recommended by Eden Cheng from PeopleFinderFree
If you are a slightly experienced learner and are looking to expand your repertoire then I would suggest checking out this book, because it was specially designed with adult learners in mind. For one, not only does the sample music cover songs from a wide range of musical genres and eras such as jazz, blues, folk, classical and more, but the lessons are definitely more progressive than other books. It also comes with a CD accompaniment to the lessons, which should help you better gauge your comprehension of tempo and timing.
---
This product was recommended by Rachel Counts from The Little Red Piano
I highly recommend Alfred's Basic Adult Piano book for those looking to learn piano, for several reasons. First, this book works well for a wide range of ages. If any of my students are age 12 or older, I start them in this book. Second, the approach the book takes allows students to progress quickly while learning a variety of techniques. There is a focus not only on reading music but also on learning chords, which provides a solid foundation for students.
---
This product was recommended by Charles Cridland from YourParkingSpace
This book comes with 20 video lessons that can be streamed, and it is a good start if you've never played the piano before and if reading sheet music isn't for you. The method proposed by Ferrante is easy to understand, fun, and interactive. The author gives simple step-by-step instructions backed up with a video tutorial. They start with basic finger patterns and piano key recognition and, as the course progresses, the lessons become more complex, helping you expand your creativity. The book also comes with an extensive list of beautiful songs that you can learn to play and can be used as a self-taught guide.
---
This product was recommended by Shakir from The Life Hype
If you are a full-blown piano beginner, this book is a good choice. It is so comprehensive and clear that even someone with no previous musical experience can follow it. Ben Parker has provided great instructions, illustrations, exercises, easy songs to play, and easy tunes throughout this book. What's more, you get to know the fundamentals of music and how to read it.
---